66 hours of instruction per class
3 in class full tests : Diagnostic, Midterm and Final Test, for better progress tracking
Engaging teachers
Interactive face-to-face classes with live virtual access
Unlimited access to Maya Prep portal for class notes and homework (with 30+ full length SAT tests)
Personalized attention to each student via classroom interactions and parent-student-teacher conferences
Adherence to COVID safety protocol
Maya Prep is deeply invested in each and every student achieving his or her individual goals.
Having a high SAT score might mean the difference between getting into a college versus getting into your dream school.

A higher score can also mean the difference between paying for your college versus getting a life-changing scholarship.

Our teachers help students to dream bigger than they ever thought possible.

Our goal is not just to make students good test-takers. We are also passionately committed to improving our students' motivation, study habits, knowledge, and overall academic performance.
Our unique tried and tested methods make students stress free and confident on the Exam Day.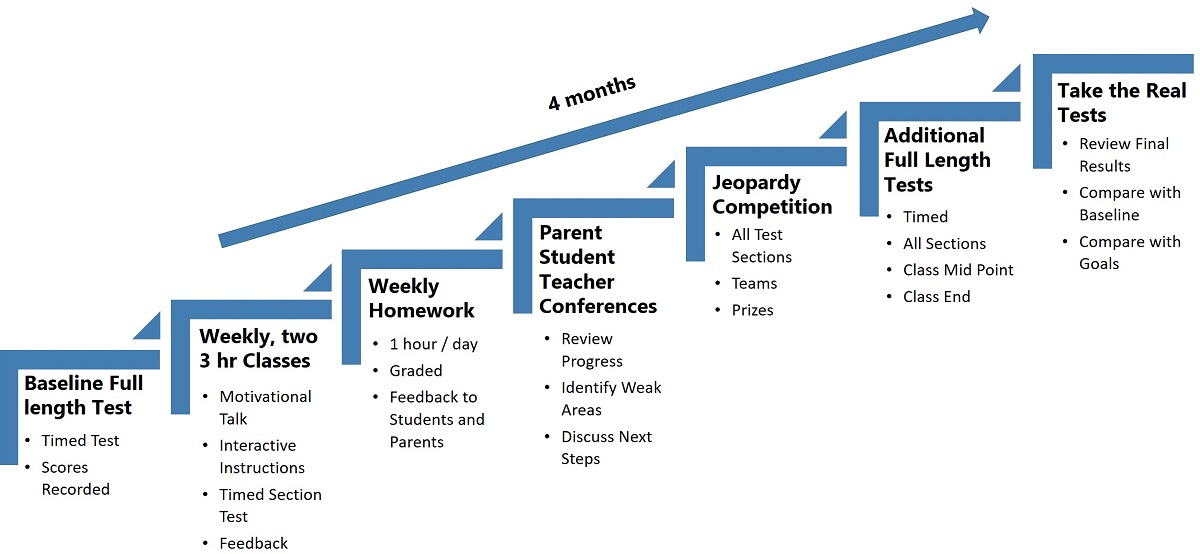 SAT Overview :
The SAT consists of four sections: Reading (52 questions/65 min), Writing and Language (44 questions/35 min), Math without Calculator (20 questions/25 min), and Math with Calculator (38 question/55 min).
All sections are in multiple choice format
Additionally, Math section has free answers question.
The test is offered each school year in October, November, December, March, April (school organized) May, June, and August.
Most students start preparing for it in the summer before their sophomore year. in average, it takes two to three trials to achieve the desired score.
Exam length :
SAT is a three hours test
Score :
SAT is scored out of 1600, and it introduced sub scores and cross-section scores.
Wrong guesses are not penalized with negative marks
SAT Date
SAT Subject Tests Available
Registration Deadline
Late Registration Deadline
Deadline for Changes

May 8, 2021
SAT Subject Tests not offered on this date
April 8, 2021

April 20, 2021 (for mailed registrations)
April 27, 2021 (for registrations made online or by phone)
April 27, 2021
June 5, 2021
SAT Subject Tests not offered on this date
May 6, 2021

May 18, 2021 (for mailed registrations)
May 26, 2021 (for registrations made online or by phone)
May 26, 2021
What Our Students / Parents Say
Frequently Asked Questions